Ratee Prasad, Managing Director
Ratee has majored in Political Science and Fashion Designing and has been working independently since 1988 primarily in Sales & Marketing with valuable experience in managing a manufacturing unit.
She has been working with the Tex Group of Companies since January 2002 when she started working with Eurotex International Limited. In January 2009 she started working with their sister concern Tex Special Projects and in January 2016 with G&M Tex and Tex Engineering Ltd.
She is responsible for:
Developing business with the Indian Navy and the Commercial Sector
Introducing the products to the public sector Shipyards
Coordinating with the Navy and shipyards
Attending meetings, tender openings and price negotiations
Over seeing timely and efficient execution of Projects in India
Her ability to relate to people at any level of business, identify opportunities, drive initiatives and provide business solutions has served her well in her career and enables her to contribute significantly in achieving the organisational objectives. She has high level contacts in the Indian Navy and in the commercial world and is responsible for handling all business interests for all the TEX Group of Companies in India.
Shankar Mathur, Director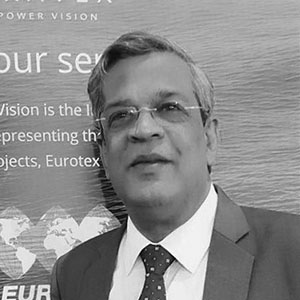 Rear Admiral Shankar Mathur has completed 36 years of commissioned service in the Indian Navy out of which 30 years have been in Logistics. He is an experienced Military Officer who is skilled in Budgeting, Operations Management, Procurement, Facility Management and out of the box solutions.
He is a specialist in Supply Chain Management and has held all the key appointments in Logistics including highly sensitive postings. He is highly respected and has an excellent equation with all the officers. He is an extremely honest and upright officer.
On the basis of his competence he was appointed as the youngest Commanding Officer of the Logistics Training Base in Mumbai. He has been CSO P&A (Chief Staff Officer Personnel and Administration) with Commanders-in-Chief of both Southern and Western Commands.