HMS Queen Elizabeth, Britain's new 65,000 tonne aircraft carrier and the largest ship ever built for the Royal Navy, is soon to be formally commissioned into the Royal Navy fleet by Her Majesty the Queen. Pratex Power Visions' very own Tex Special Projects designed and manufactured the innovative Flying Control Room (FLYCO) and installed the glazing throughout the ship. Over 10 years' of feasibility studies, research, design and Finite Element Analysis was carried out at Tex's UK site.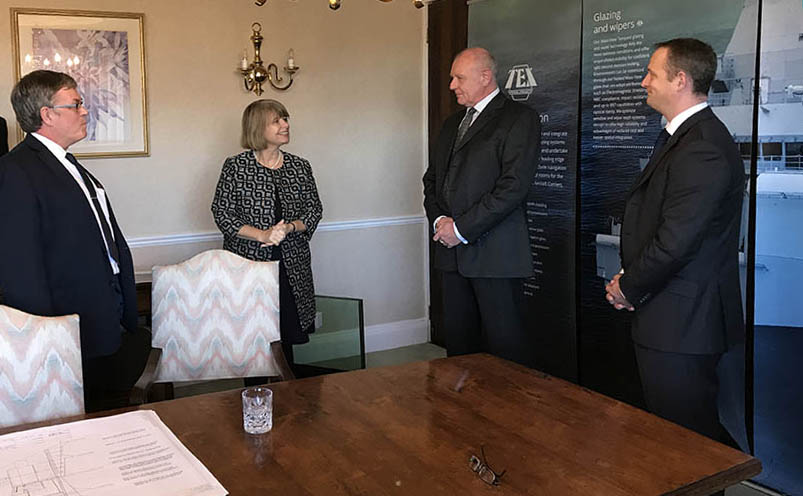 Harriett Baldwin explained "Soon our sailors will be watching, through these panes of glass, our F-35 fighter jets take off to defend our country. Our new aircraft carriers are a floating example of British industrial ingenuity and have helped to boost local businesses right up and down the UK."
Chris Parker, Director reported "Tex Holdings have long been involved in a variety of Ministry of Defence projects such as designing visual control rooms within air traffic control centres for Royal Air Force and Royal Navy air stations across the UK. For this project we had to design and overcome some very demanding technical challenges, delivering a near uninterrupted 290-degree field of view of the flight deck, which is unparalleled in any nation's warships. We feel incredibly privileged to have been a part of this very prestigious capital project. For 12 years we have provided our technical expertise and supplied the FLYCO and all the ship's windows, wipers and blades. Without the Queen Elizabeth Class programme the Special Projects Company would never have been formed, so we are extremely grateful for the exceptional opportunity it afforded us."
Read more about Harriett Baldwin's visit on the HM Government GOV.UK and Ipswich Star.